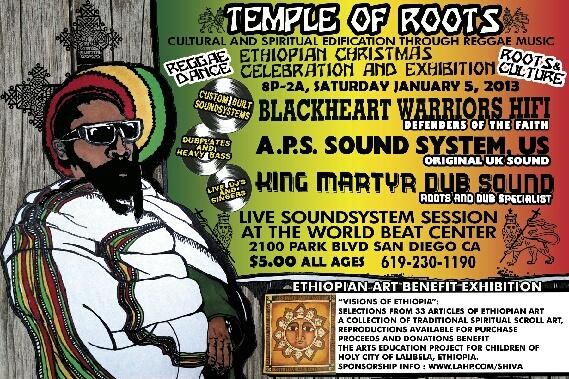 Ethiopian Christmas Celebration and Art Exhibition
Featuring
Live Soundsystem Session by
Blackheart Warriors Hifi
APS Sound System (US)
King Martyr Dub Sound
plus Guest
$5 All Ages
Ethiopian Art Benefit Exhibition
"Visions of Ethiopia"
Selections from 33 articles of Ethiopian art,
A collection of traditional spiritual scroll art,
Reproductions available for purchase.
Proceeds and donations benefit
the Arts Education Project for children of
Holy City of Lalibela, Ethiopia.
Sponsorship info: www.lahp.com/shiva
WorldBeat Cener
2100 Park Blvd
San Diego, CA
Edited 1 time(s). Last edit at 01/05/2013 06:17PM by Daniel.